Fiberglass Pipe Insulation for Industrial Applications
Fiberglass pipe insulation has been broadly adopted across a number of industries as their go-to for industrial applications. This shift is owing to its dependable performance in both hot and cold process applications as well as its longevity and durability under extreme conditions.
Owens Corning ASJ Max Fiberglass Insulation
A traditional all service jacket (ASJ) is a type of facing bonded to the surface of fiberglass insulation to improve both aesthetics (White Kraft paper for a clean look in exposed systems) and performance factors like condensation control. Owens Corning's ASJ Max Fiberglass Insulation improves on standard ASJ in every facet. 
ASJ Max Fiberglass Insulation was tested and proven to perform as well, or better than SSL II® and competitive closures. The maximum operating temperature rating has changed from 850°F to 1,000°F (with heat-up schedule).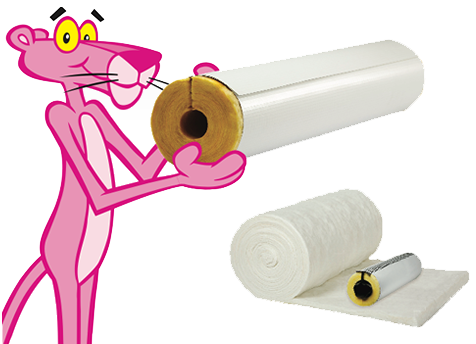 Benefits of Fiberglass Pipe Insulation
Durable, cleanable, encapsulated-paper jacket doesn't support mold or mildew growth

Resists/sheds water when exposed to intermittent, short-duration precipitation during construction

Higher puncture resistance and less wicking/curling than standard ASJ

Accepts paint and mastic as well as standard ASJ

The SSL® Max closure system was designed with advanced adhesives to work specifically with the new jacket to provide a tight, reliable seal that doesn't need glue or staples.

Outstanding long-term bond as acrylic adhesive "grows" on the jacket during the 48-hour wet out period

Available in select metric sizes for use with Aquatherm® piping systems
Get a Fiberglass Pipe Insulation Quote Today
The Insulation Guy is an industrial pipe insulation supplier that strives to provide only the best equipment on the market. Working with countless industries, The Insulation Guy helps save businesses money, and keep workers safe. We pride ourselves on being truly knowledgeable in understanding how to solve your pipe insulation application and protection problems, however simple or complex. Get a free quote today to learn more about what industrial insulation can do for you.