Acoustic Curtains
Acoustic curtains can be used in almost any setting when sound insulation is necessary. In an industrial setting, properly installed acoustic curtains provide coverage on all sides (including an optional roof). 
Some Features of Acoustic Curtains: 
High actual noise reduction up to 25 dB(A)
Custom engineered systems for any application
Roof Panels and ventilation systems available when required
Quick access to machinery and equipment for operation and maintenance
Fire safe and low smoke emissions per ASTM E-84, Class 1: Per ASTM E-162, ASTM E-662
Easily installed, relocated or modified
View windows for visibility
Durable constructions for long service life in severe industrial conditions
Curtain system models are offered in various styles for the optimum solution of application's requirements
Economical alternative to rigid acoustical panel systems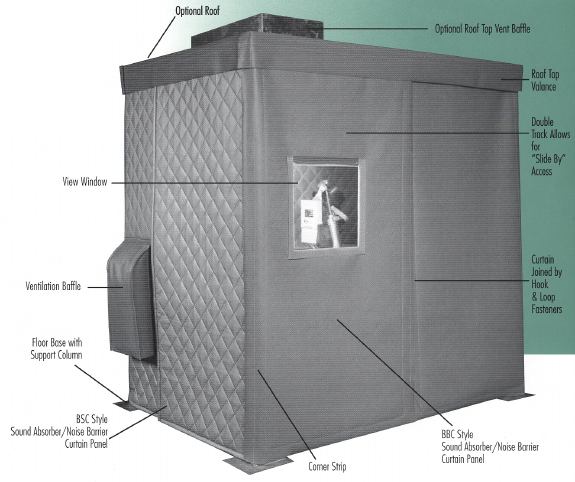 Our acoustic curtains have a Double Track feature that allows for "slide by" access, which is perfect for quick access to machinery and equipment. Additionally, custom acoustic curtains have windows so your crew can inspect insulated machinery without entering the curtain tent. 
Multiple ventilation baffles allow for optimal airflow and circulation while maintaining sound insulation. 
The material used for our industrial acoustic curtains is both washable and able to be steam cleaned for optimal cleanliness in any industrial setting. 
At the Insulation Guys, we pride ourselves in being truly knowledgeable in understanding how to solve your industrial insulation application and protection problems, whether simple or complex. Just call us during business hours toll-free at 800-734-8771 or complete our RFQ form.